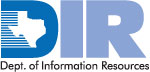 COOLSOFT shall provide IT Services to serve all Customers of DIR throughout the State of Texas under this Contract. We shall use our best efforts to ensure that potential Customers are made aware of the existence of this Contract. Please click on the following links for more information on this Contract.

Welcome to COOLSOFT page for IT Staff Augmentation Contract (ITSAC) with Department of Information Resources, State of Texas. If you need additional information, please do not hesitate to contact us.

Our Contract Award number is DIR-CPO-4606.