CoolWorks
CoolWorks is an integrated procurement platform with powerful projects proposal, contracts, recruitment, engagement, timesheet, invoicing and payment management features.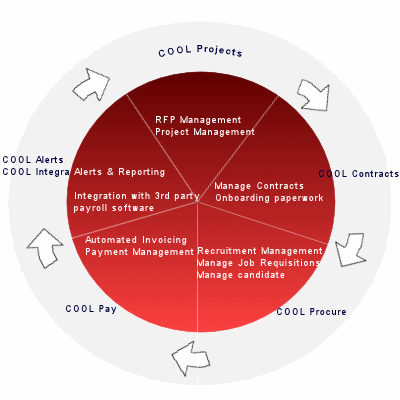 The CoolWorks - Integrated Procurement Management System (PMS) - is a web based suite of applications that can manage projects, RFPs, contracts, procurement, payment and integration with other systems at a reasonable cost providing measurable ROI.
Procurement Management Systems are increasingly being adopted by organizations seeking to centrally and efficiently manage their resource requirements. A primary reason cited by clients for PMS program implementation is cost reduction, from billing rates to administrative costs. The Procurement Management system has these core modules which address the needs within the PMS market:
COOL Projects – Projects, RFP Management System
COOL Contracts - Converts Project modules to Service level agreements
COOL Procure - Recruitment system
COOL Pay - Invoicing and payment management system
COOL Alerts - Alerts & Reporting system
COOL Integra - Timesheet management with integration to 3rd party software
The ultimate goal on a PMS solution is to procure the best resources at the best rate. A successful PMS program is one where clients work with vendors to obtain quality resources at competitive market rates, in a timely and efficient basis. CoolWorks provided that ability and the ability to conquer your world.